Book Your Stay
Exploring the Fascinating Story of Cape Fahn Hotel, Samui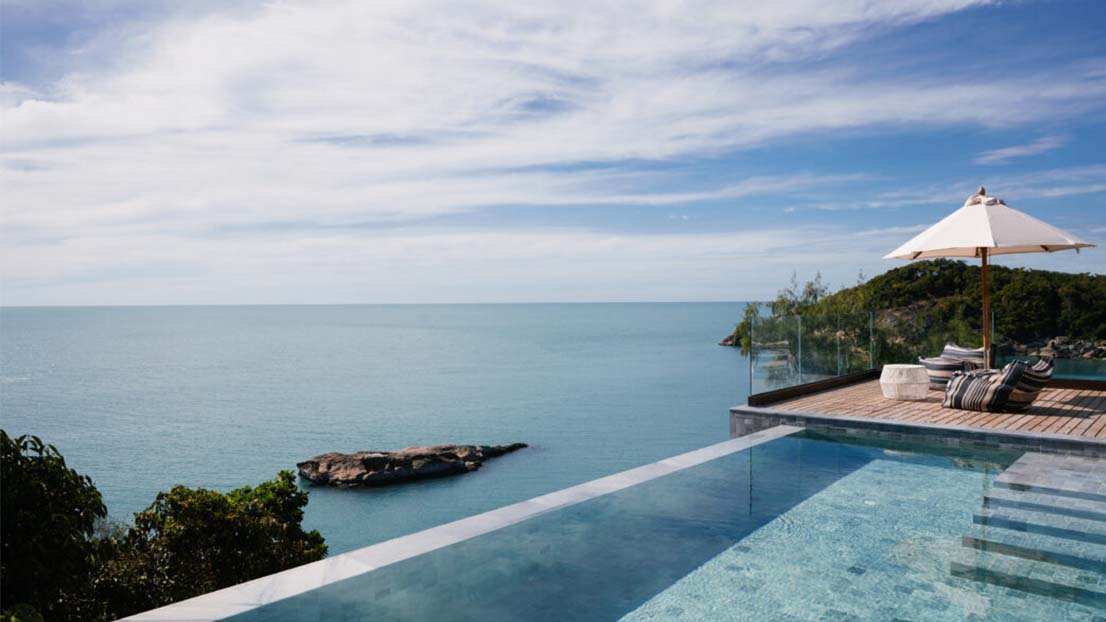 The New Name in Thai Hospitality
With Cape & Kantary, hotelier Tirawan Taechaubol breathes new life into the notion of Thai hospitality.
TIRAWAN "WAEW" TAECHAUBOL has quietly revolutionized the Thai hospitality industry over the past ten years, growing a devoted following for her small hotel group, Cape & Kantary... Read more
MOST POPULAR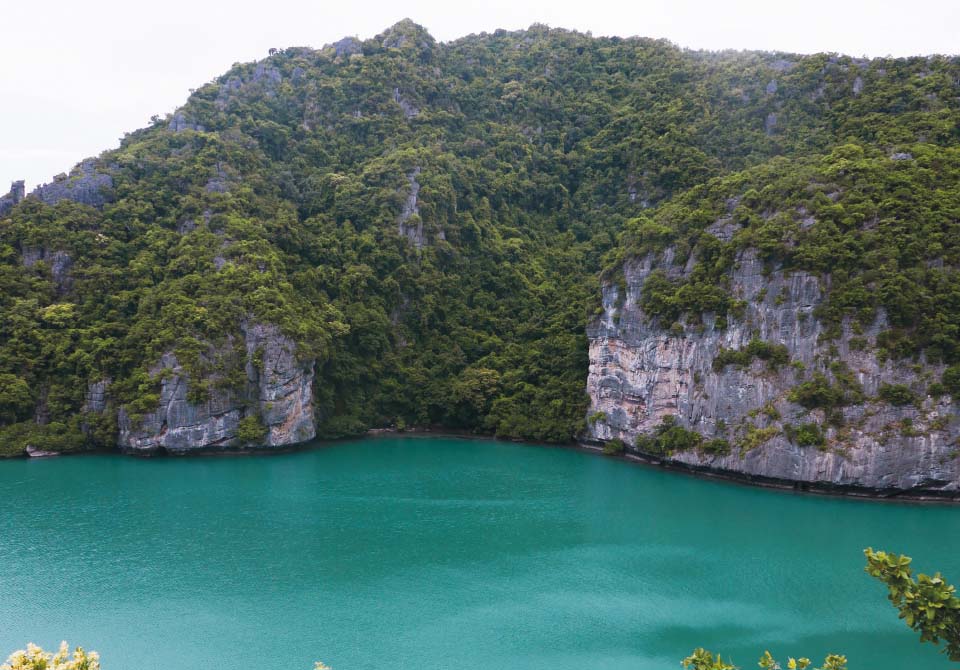 KOH MAE KOH
( MOTHER ISLAND )
The Mother of all islands boasts a geological creation that dates back 30 million years. Overtime, erosion of seawater fed via a network of underground caves has caused the rock surface to enlarge, revealing a hidden jewel of an Emerald Lake. Life is so prominent in the lake that even the sea urchins made it through to settle in the oasis of calmness.
Overall, the walk takes around 20-30 minutes on a very steep and very poorly designed ( possibly unfinished ) set of stairs. It may look relatively easy from the start, but hard work and a few stepping techniques are required once in the zone. There are a few viewpoints to capture your adventure with 'close as you can get' to the lake for your finale shot. Unfortunately, as tempting as it looks to dive right in, swimming is prohibited for conservation reasons. Mind you, Leonardo DiCaprio had the chance to swim in it for the film adaptation of Alex Garland's book, The Beach. We'll have Moby's 'Porcelain' on repeat as a nostalgic tribute when revisiting this majestic straight-out-the-movie scene.
* It is advised that small children should avoid this route unless carried by their parents.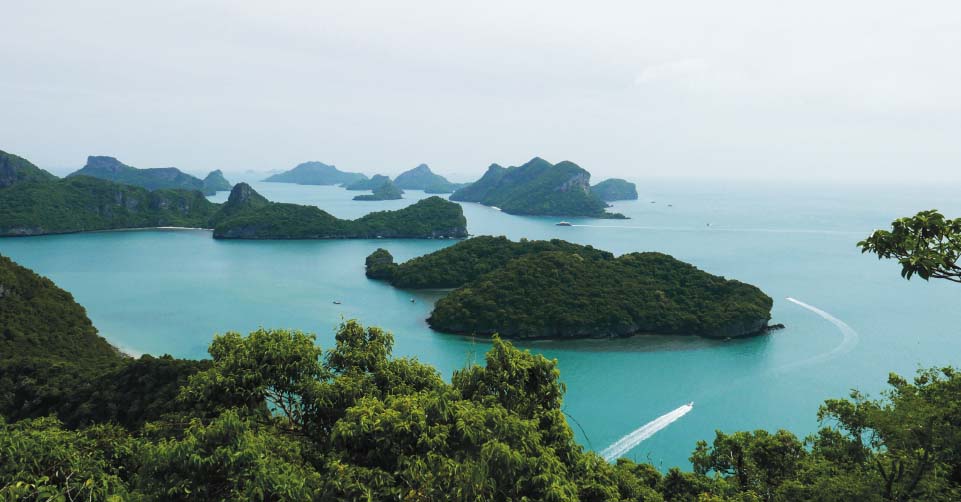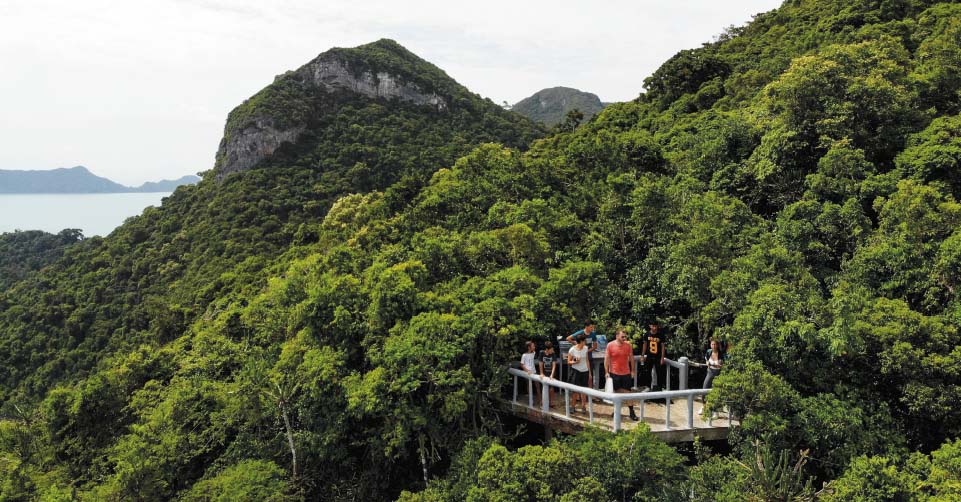 KOH WUA TA LAP
( SLEEPING COW ISLAND )
Koh Wua Ta Lap is the second largest island and serves as the headquarters for happy campers and daily visitors to the archipelago. A perfect set up for those who have plenty of reasons to linger and explore. There are facilities such as an information centre as well as a campsite, restaurant, restrooms, and a small corner store to replenish your needs before or after your excursion.
The hike to the highest viewpoint takes approximately one hour to complete, taking into account that it's a constant 500m incline trek. Some form of fitness level is recommended as it is considered to be of moderate difficulty. However, you would be happy to hear that there are five viewpoints in total, meaning there are areas to rest now and then.
Once up there, it is undoubtedly breathtaking as you soak up the 360-degree panoramic view and what lies far beyond Ang Thong. Below the trail is Tam Bua Bok Cave, which is another option for those looking to cool down next to the stalagmite and stalactite formations.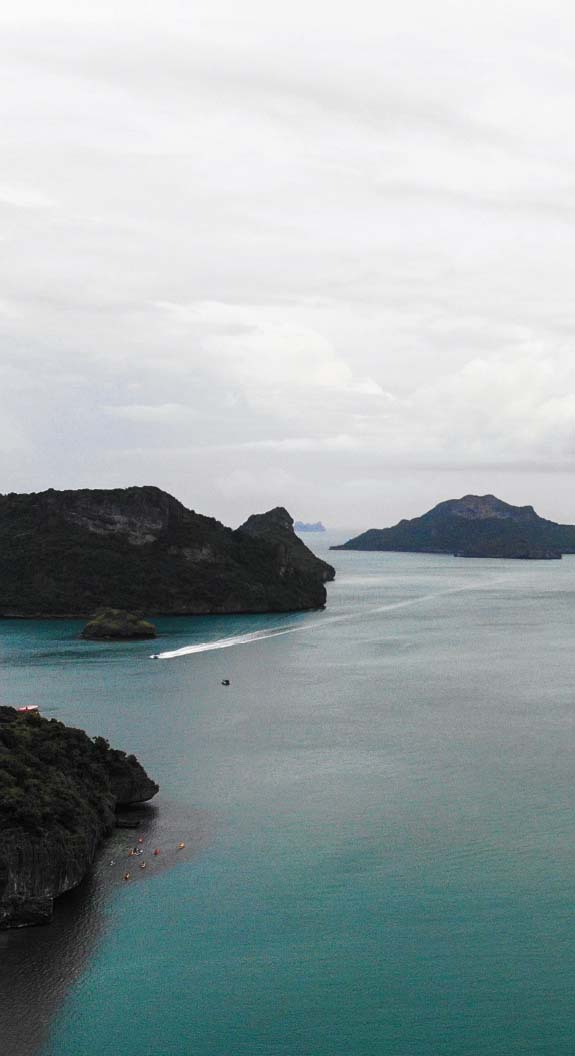 THE CALM LAGOO
Visiting the surrounding uninhabited islands makes a perfect getaway from the sardinepacked tours that reform every 30 minutes on the larger islands. Lush green floating mountains and dramatic limestone cliffs as if taken from a fantasy movie set are no ordinary view. Koh Mae Koh and Koh Sam Sao serve as a calm enclosure for the little isles up north. Ask your skipper to take you around the smaller islands near to Koh Sam Sao such as Koh Phi, Koh Thaiphlao, and Wua Kantaeng. Anchor in a quiet bay and enjoy the privacy of the white sandy beaches to yourself as you soak in that holiday feel.
The Lagoon often hosts friendly dolphins which take shelter from the (occasional) storm, and do their usual rounds of daily feed once they are around the area. We were lucky to spot a pod of dolphins, who weren't too bothered to swim alongside our boat.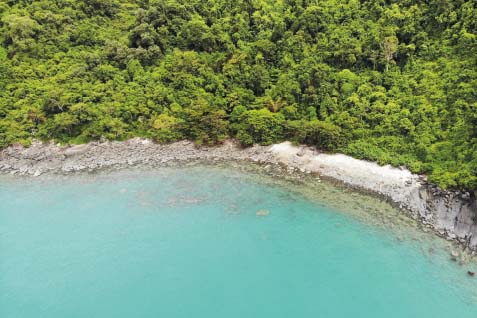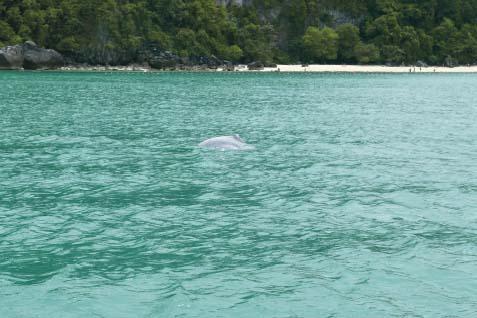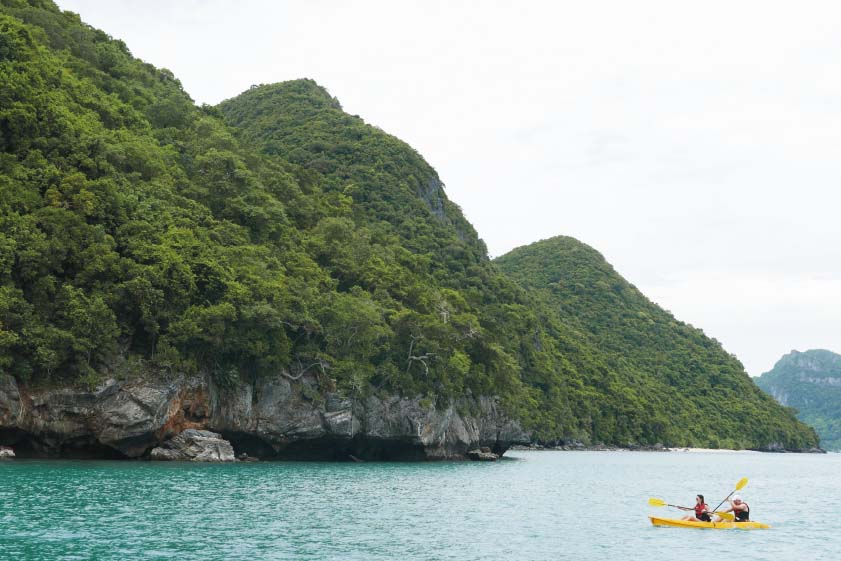 KOH SAM SAO
( TRI POD ISLAND )
Tall coconut trees sprawl across the façade of the island, bearing a grand welcome when you set foot on land. The beach here is practically a charisma of Koh Sam Sao, as its pristine smile makes you feel at ease once in clear waters. Snorkel around the blanket of colourful corals in the most idyllic setting. The main natural attraction is a rocky bridge that reappears on many travel websites.
Kayaking is another popular choice for those who are looking for a more peaceful connection with Mother Nature. Hire a kayak for 500 Baht at Koh Sam Sao and explore the surrounding islands with or without a kayak tour guide. Alternatively, the art of getting lost can sometimes mean potential discoveries – get the skipper to keep a close watch of your route from a distance!