จองห้องพัก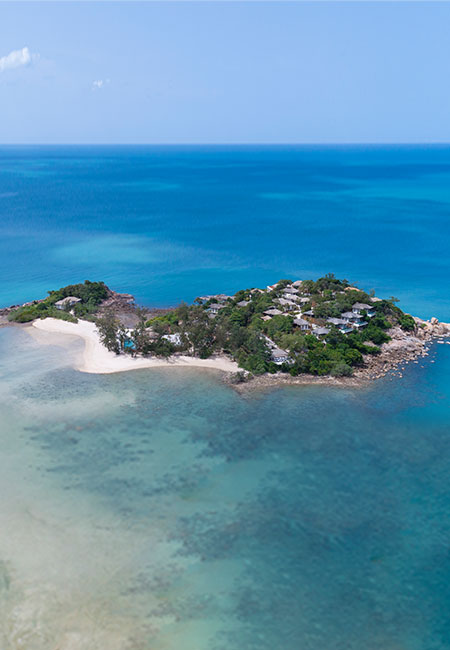 Cape Fahn Hotel
Private Islands Samui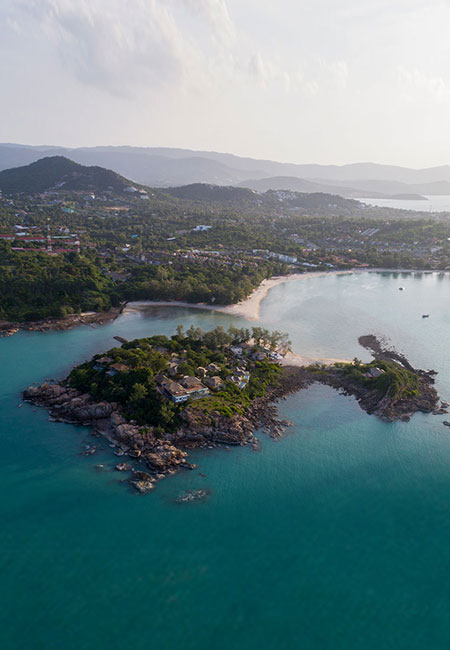 Cape Fahn Hotel
Private Islands Samui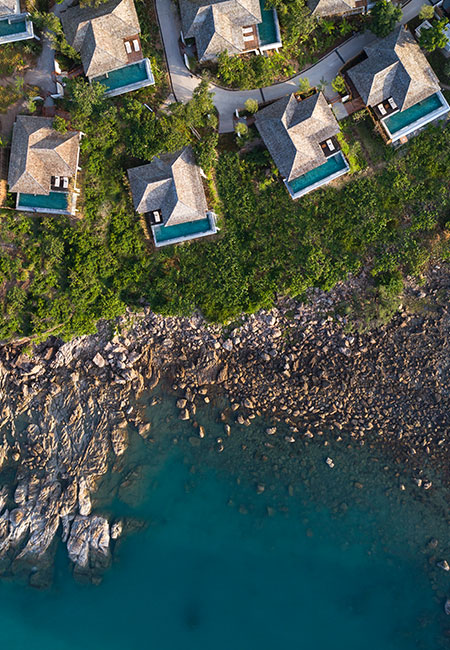 Cape Fahn Hotel
Private Islands Samui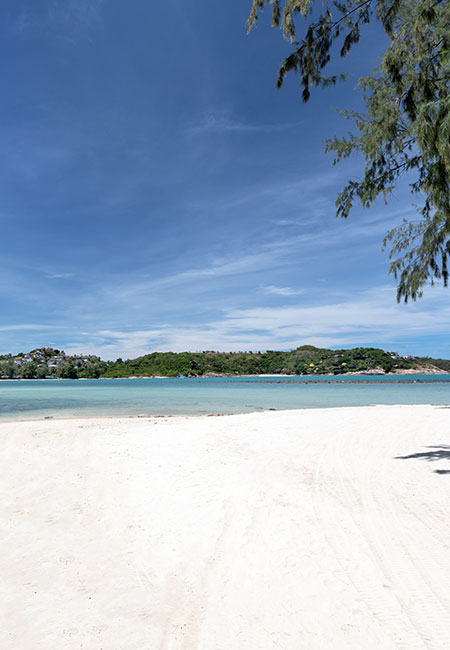 Cape Fahn Hotel
Private Islands Samui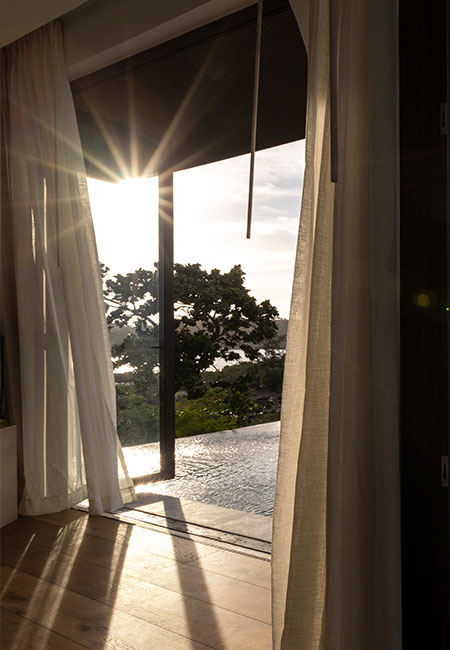 Cape Fahn Hotel
Private Islands Samui
Cape Fahn Hotel
Private Islands Samui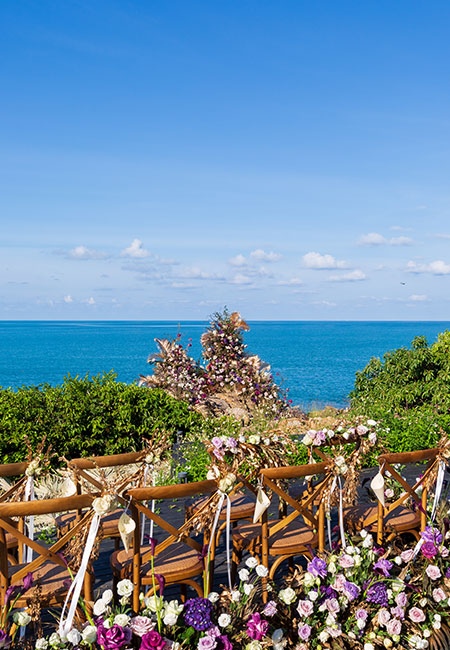 Cape Fahn Hotel
Private Islands Samui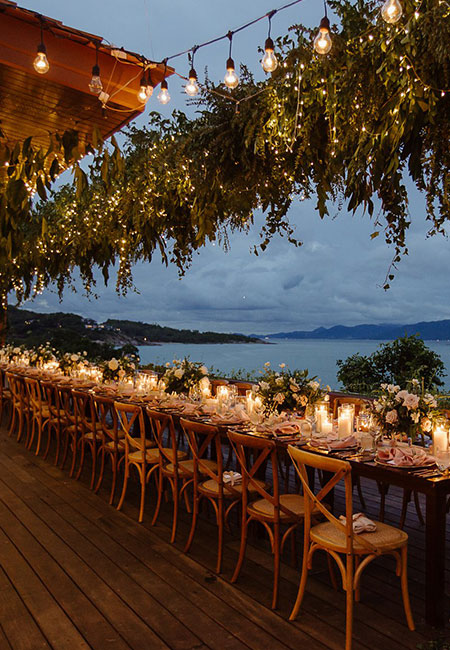 Cape Fahn Hotel
Private Islands Samui
Cape Fahn hotel private islands
At Cape Fahn Private Islands Hotel, on the diminutive and enchanting Koh Fahn, located off the eastern coast of Koh Samui, escape to serene seclusion in your independent and exclusive villa with its own private plunge pool. In a truly relaxing setting surround yourself with nature: trees, warm breeze and birdsong; a deserted beach and the gentle sighing of the waves.
The location of the renowned Long Dtai restaurant, in the sure and experienced hands of Michelin-starred David Thompson, offers spectacular views across the crystal clear blue waters of Phang Nga Bay.
It is the ideal location for an intimate, romantic break or a very special family event. Our Wedding Service covers all the details leaving you to simply enjoy your day. Alternatively, for a confidential business meeting, there are no passers-by. Take the entire hotel for the duration of your event with supreme service and complete assurance.
Here is your own exclusive island hideaway bathed in the warm caress of the tropical sun from sunrise to sunset where accessibility comes with remoteness as standard.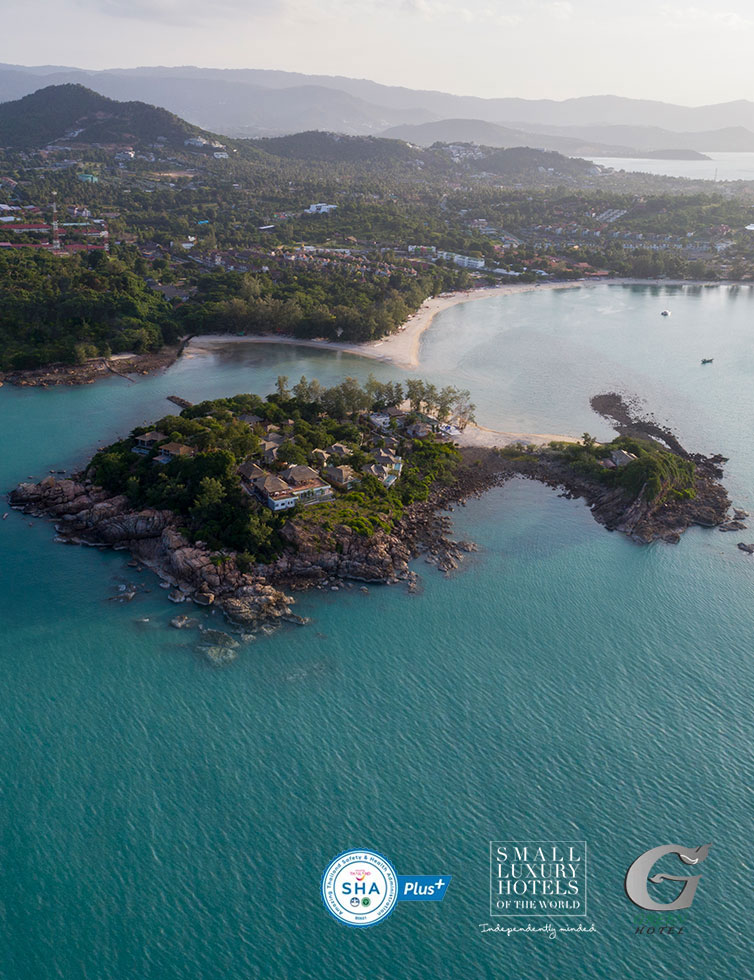 CAPE FAHN HOTEL PRIVATE ISLANDS
IS PROUD TO RECEIVE YET MORE PRAISE

Best Beach Resorts in Thailand

Top 500 Hotels in the World 2022

Top 10 Resorts in Southeast Asia

Tripadvisor's 2022
Best of the Best Award

1 of 21 Best Hotels with a View From Thailand's Private Villas

1 of 13 of the World's Best Private Island Resorts

Vacations and Travel

Cape Fahn Hotel is receiving the certificate of "Green Hotel": Level, Silver
ดูเพิ่มเติม
ห้องรับประทานอาหาร
From an informal snack to a voyage of taste discovery, Hue Restaurant and Long Dtai Restaurant have delights to offer.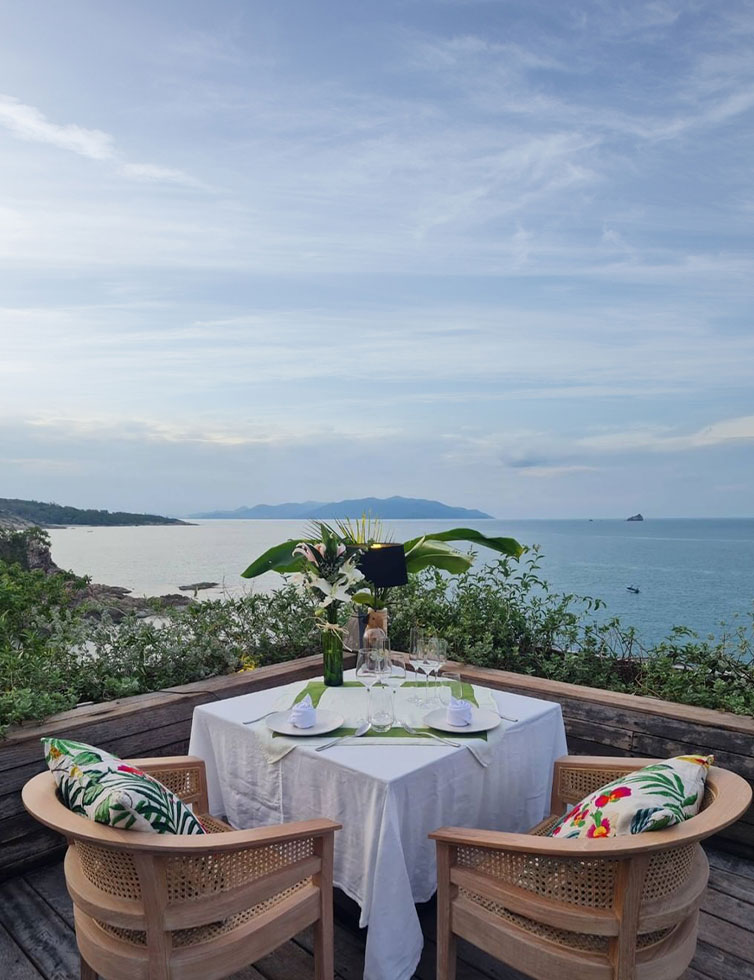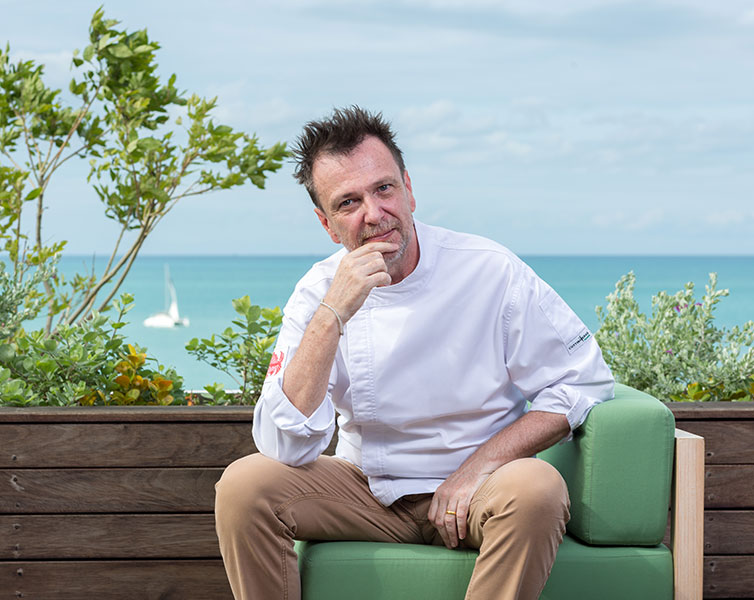 ล่องใต้
This venture specialises in an authentic Southern-Thai seafood restaurant, stressing marine conservation and sustainability.
ดูเพิ่มเติม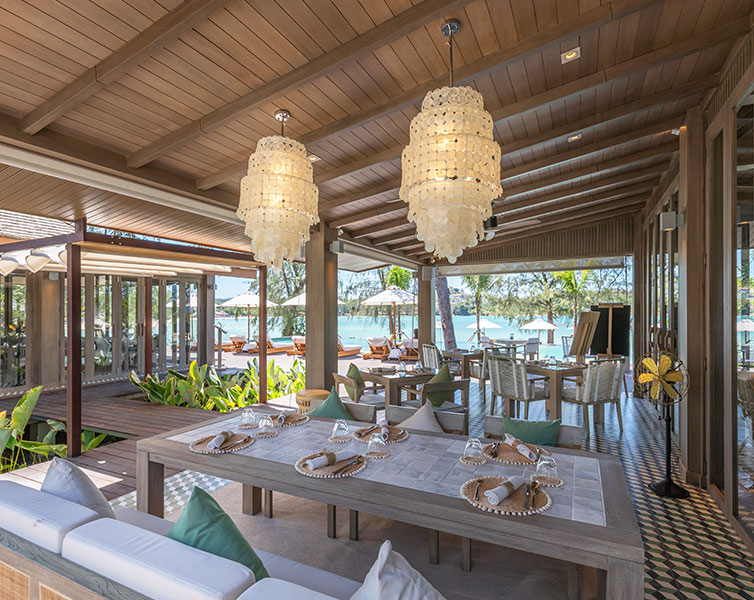 Hue All Day Dining
Conveniently situated near the pools and recreational areas, HUE restaurant is open from 9.00 a.m. to 10.30 p.m., offering international and Thai menus of the highest quality for all-day dining
ดูเพิ่มเติม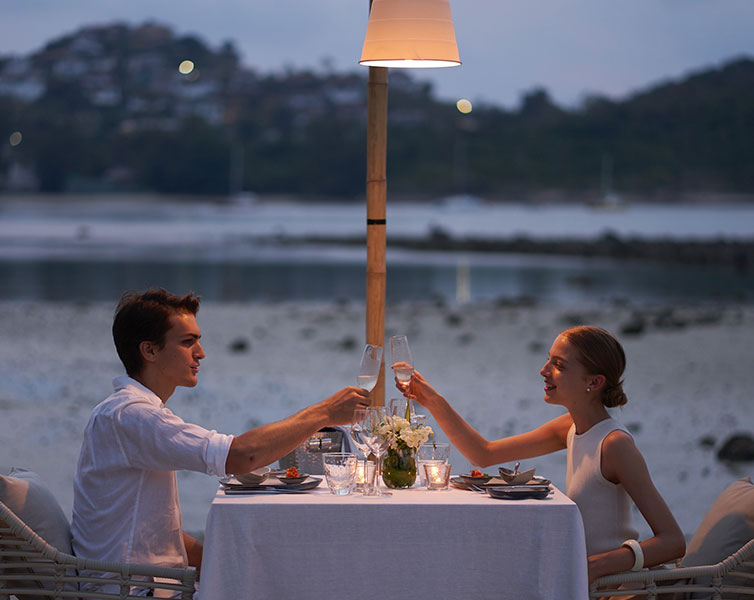 Beach Dining
This has to be ultimate romantic gesture, an opportunity not to be overlooked with complete confidentiality up to the perfect moment.
ดูเพิ่มเติม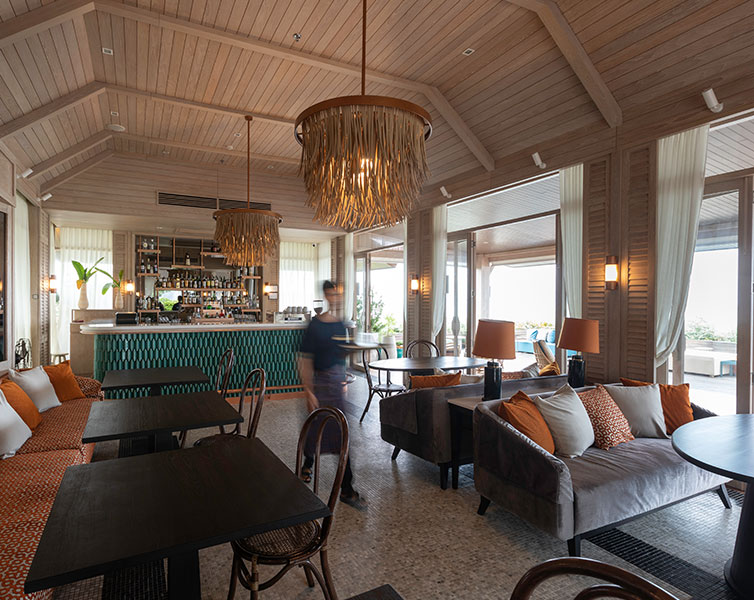 Island Bar
For comfort and relaxation out of the heat of the day. the Island Bar is a welcome retreat.
ดูเพิ่มเติม
ดูห้องรับทานอาหารทั้งหมด
Our Services
This island is all your
งานแต่งงาน
Just what a holiday should be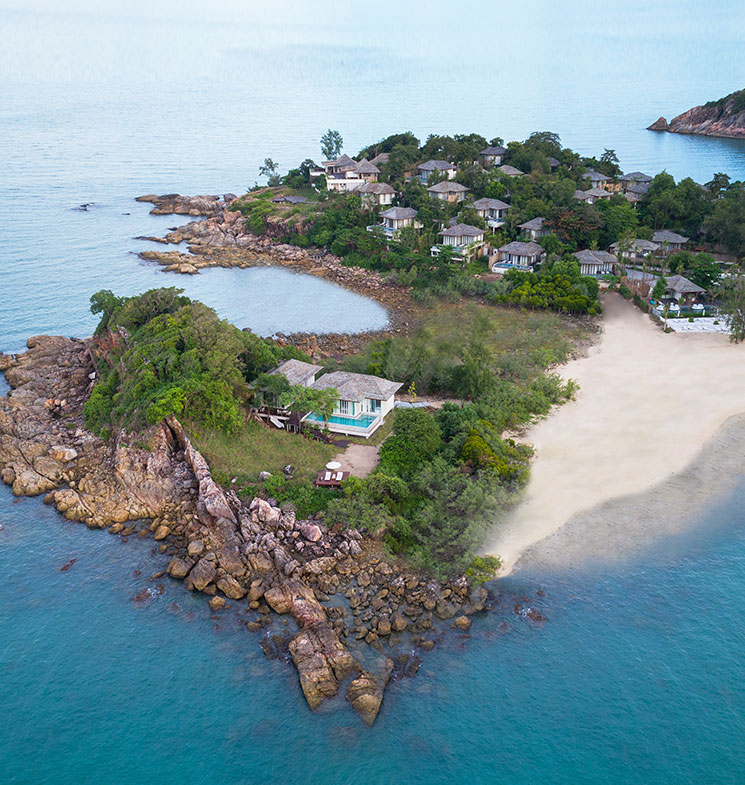 This island is all your
Live your dream on a private island at Cape Fahn Hotel, Koh Samui. For that once-in-a-lifetime occasion or to impress for that really special social or corporate event, you can have exclusive and private access to everything that Cape Fahn, on its own private island, has to offer.
ดูเพิ่มเติม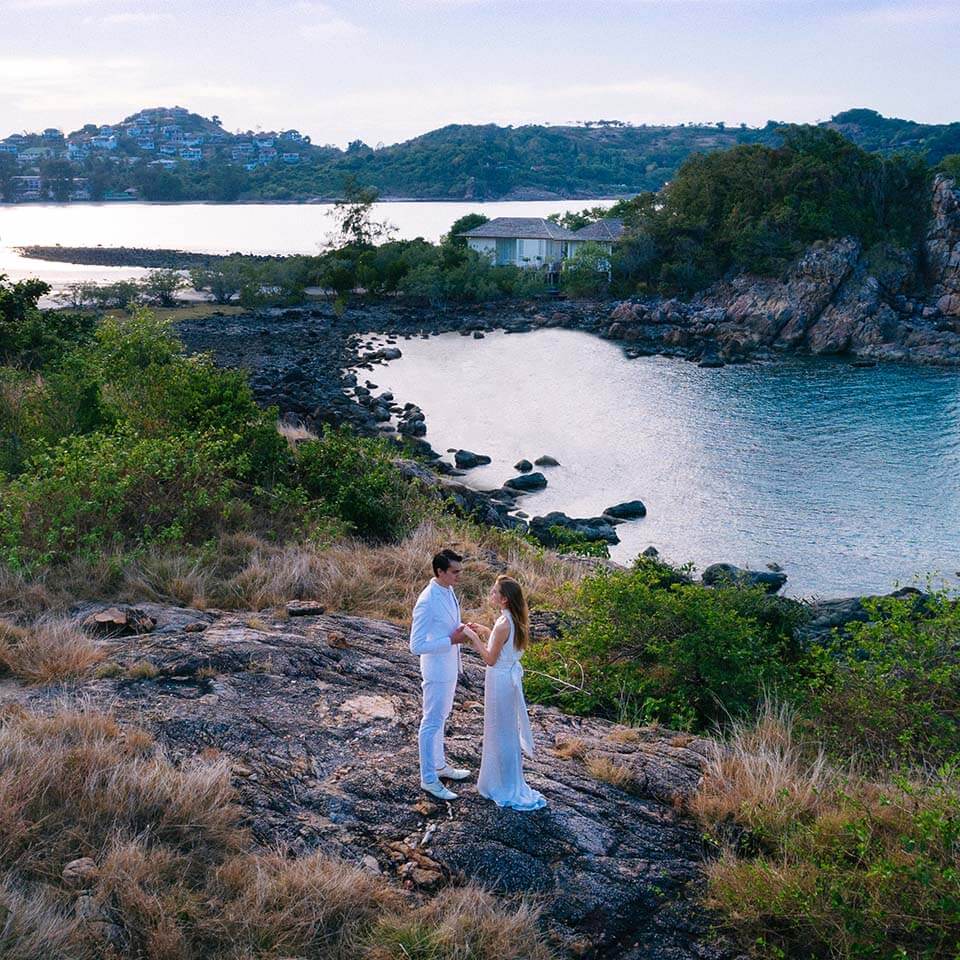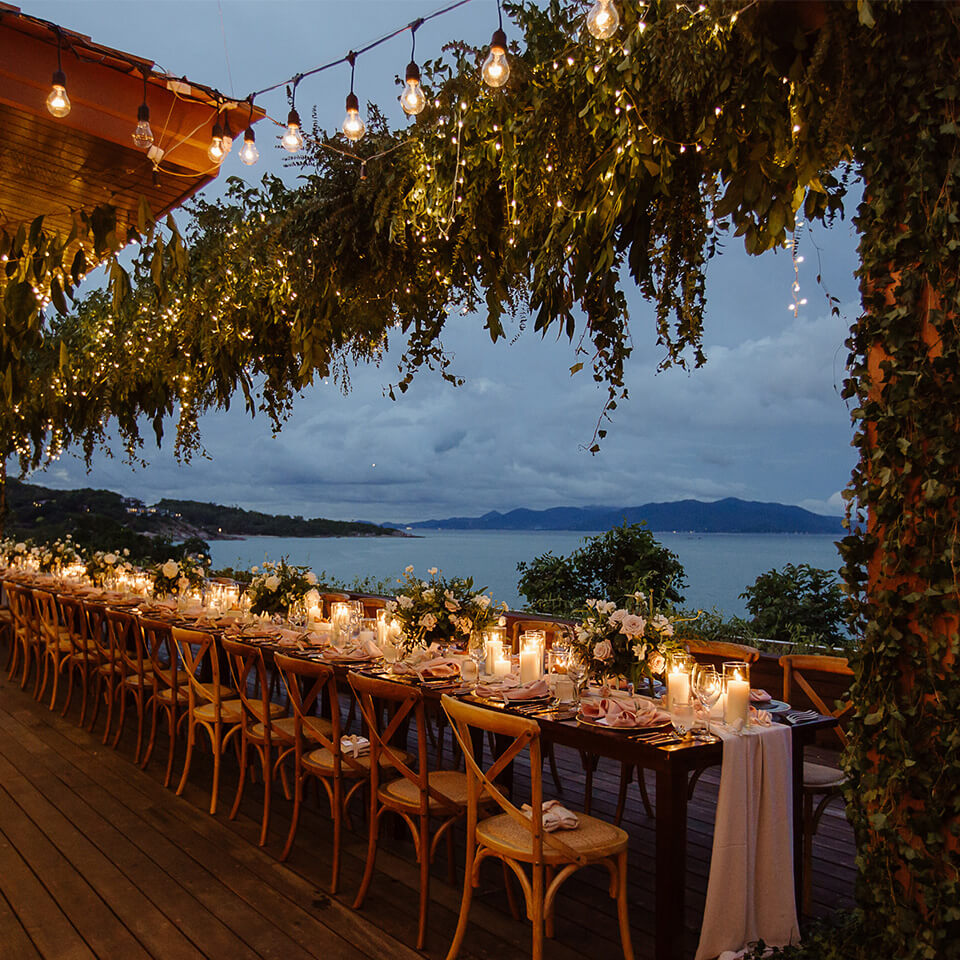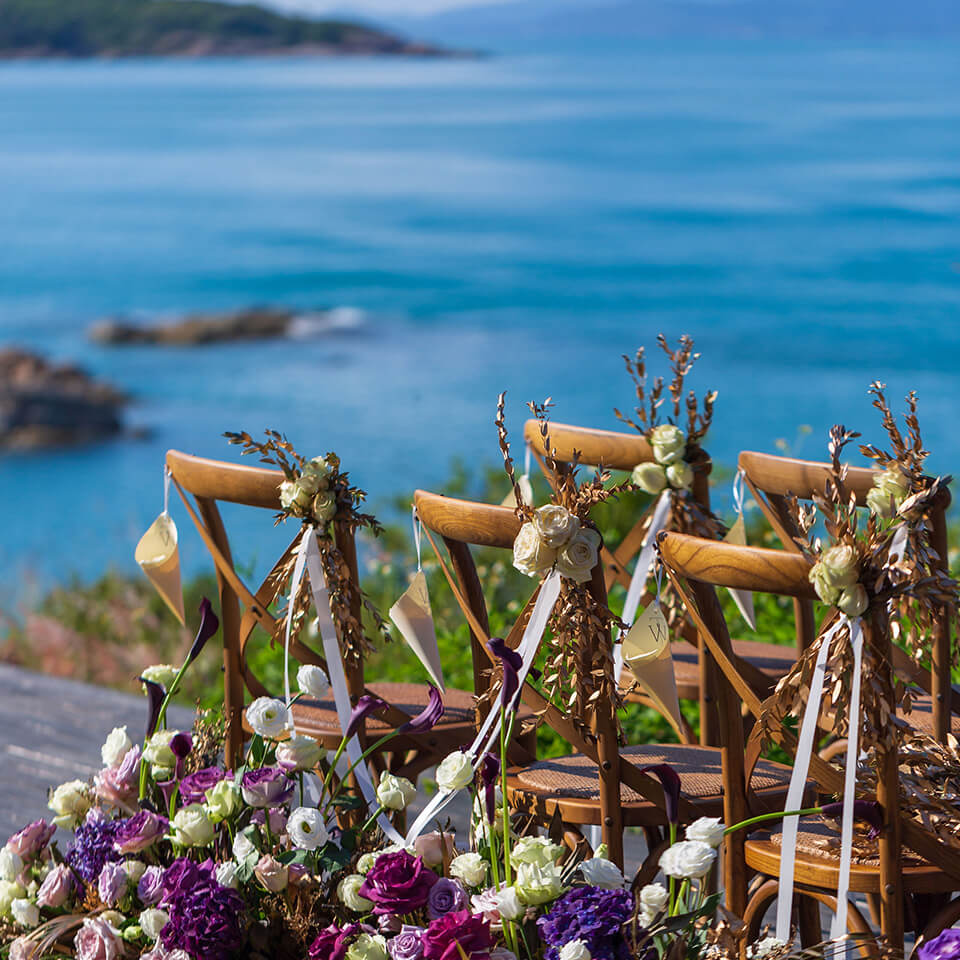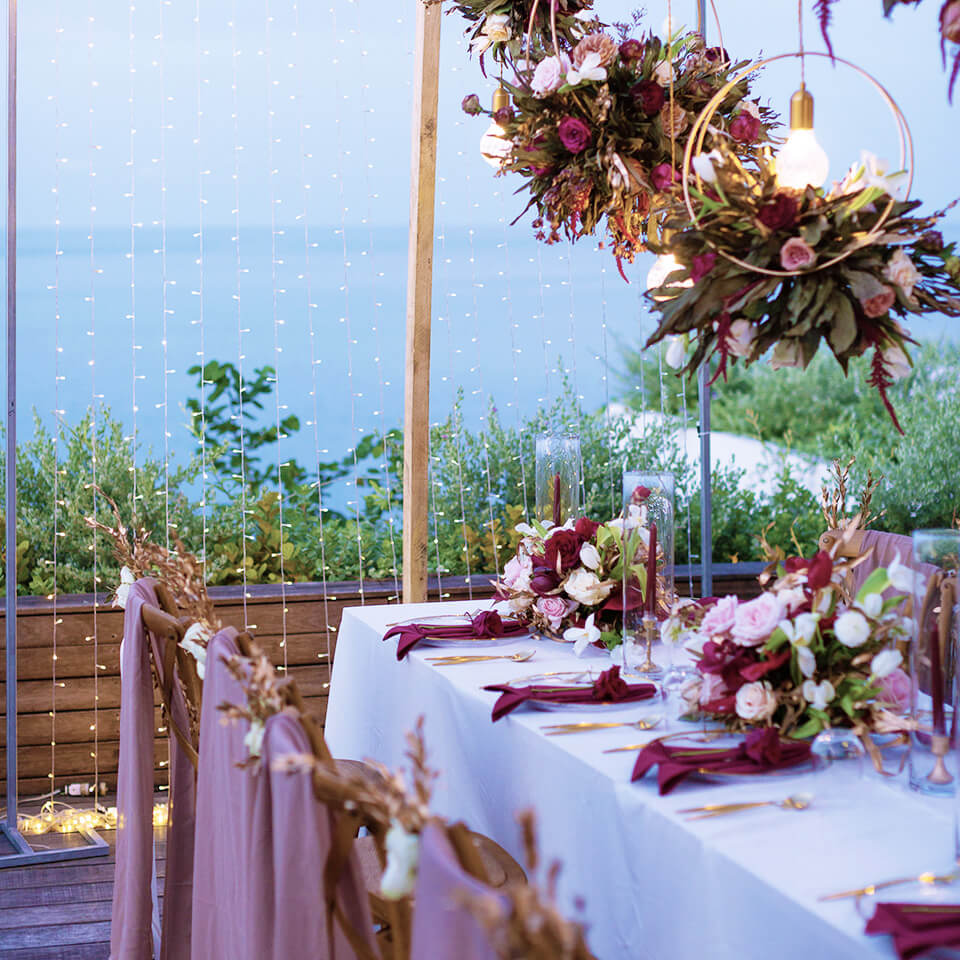 YOUR WEDDING
EXPERIENCE
Start your life together embraced in true five-star luxury in a secluded villa on your own private island and build memories that will last forever.
ดูเพิ่มเติม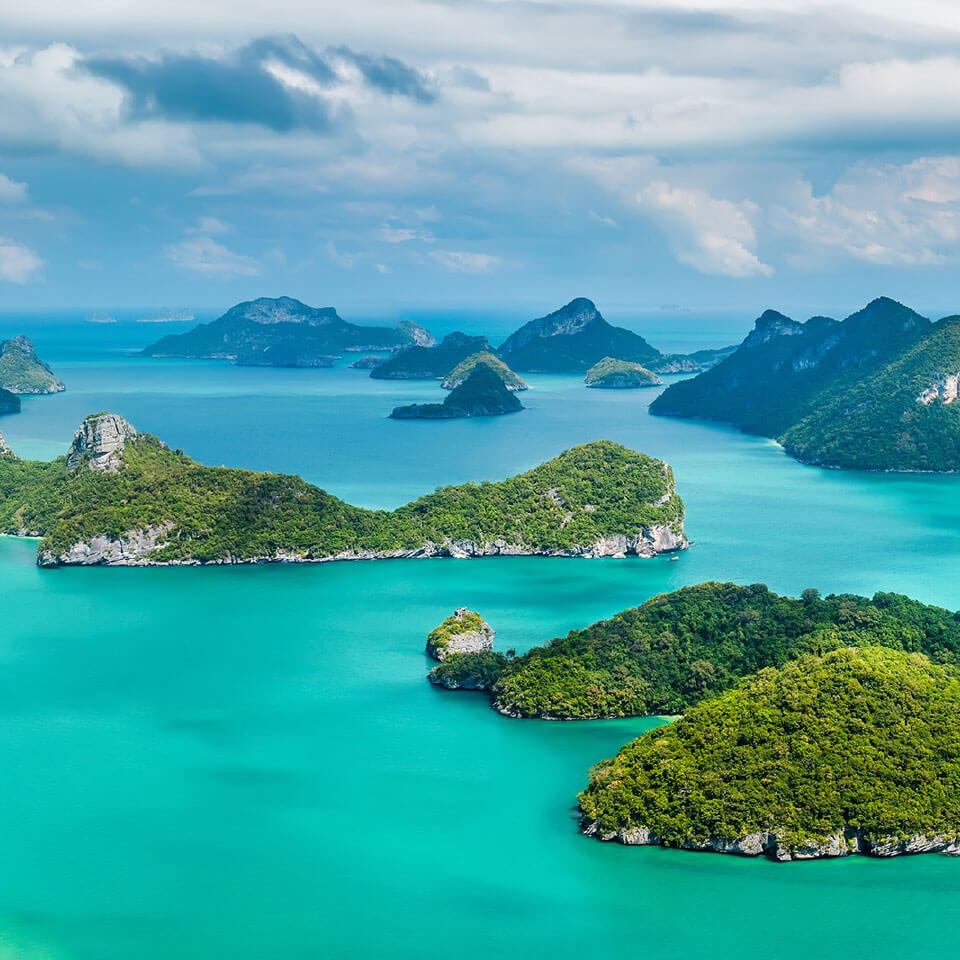 JUST WHAT A HOLIDAY
SHOULD BE
Named as one of "13 of the World's Best Private Island Resorts Perfect for a Secluded Getaway" by 'Departures Magazine', in August 2020 for its exceptional facilities and service as well as breath-taking location. Take home from your holiday vibrant memories of living among stunning tropical views.
ดูเพิ่มเติม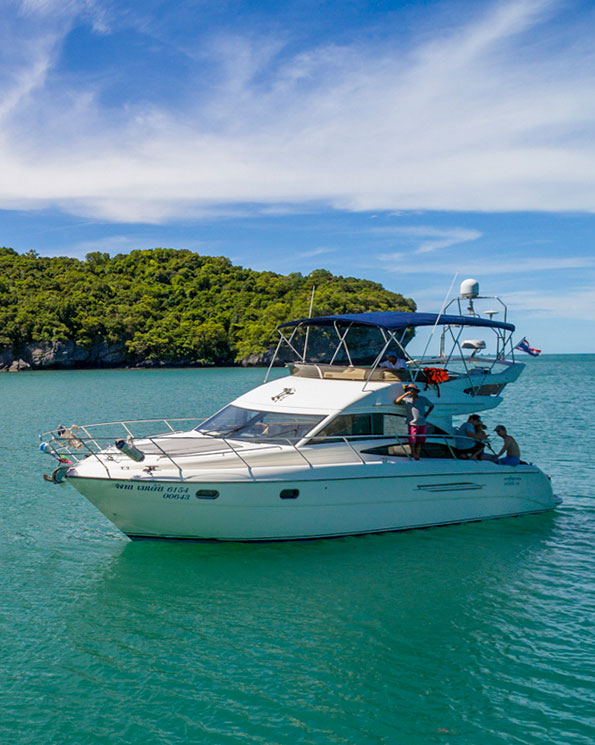 Cape Fahn Hotel Yacht Charter
The svelte, sporty lines of this modern vessel spell a clear promise of adventure and thrills as you skim over the blue waters to a secret sheltered cove where you can relax in and out of the water.
ดูเพิ่มเติม
กิจกรรม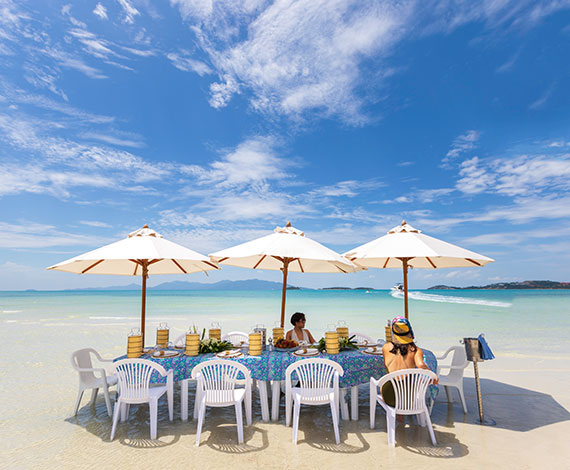 FEET IN THE SEA PICNIC
Enjoy a luxury picnic seated at the beach while the wavelets lap soothingly at your ankles.
ดูเพิ่มเติม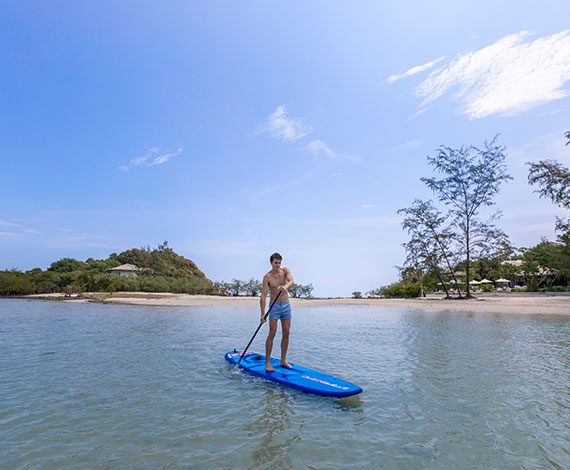 PADDLE BOARDS
When the time comes to get a different view of your island home, enjoy the sea at close quarters in a Kayak or on a Paddle-board. (Availability subject to weather and tide)
ดูเพิ่มเติม
EXPERIENCE THAI DESSERT COOKERY
Get tips on preparing perfect Thai desserts from the expert. Our Chef will guide you through the delicate creative process that makes Thai food what it is.
ดูเพิ่มเติม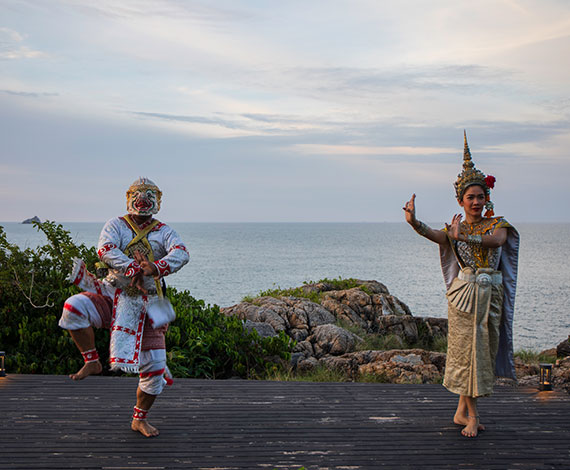 Thai Dance (Ram Thai)
Experience the grace and beauty of traditional Thai dance in traditional Thai dress (select from Hanuman or Nang Benyakai costume)
ดูเพิ่มเติม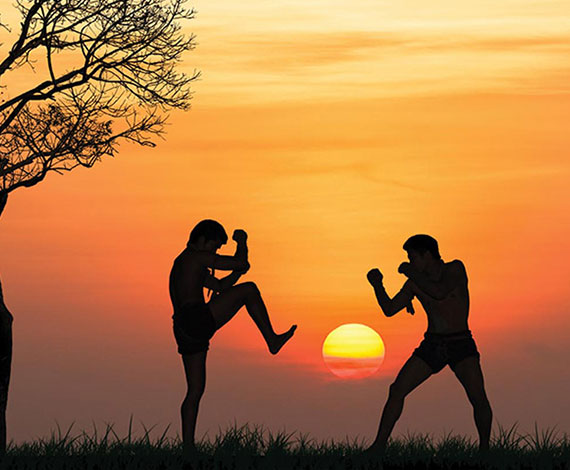 PRACTISE AND WATCH MUAY THAI
Kick up a healthy glow with some strenuous training in Muay Thai. Learn the precision and control that goes with speed and strength.
ดูเพิ่มเติม
Discover the New
#capefahnhotel
Visit @capefahn to open the door to the wonders of Cape Fahn Hotel Private islands, Samui